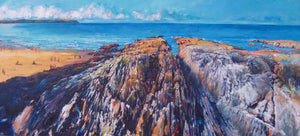 150cms x 60cms original oil on canvas. In a stained hardwood box frame.
Selected for and exhibited at the Rugby Art Galeery and Museum in the Rogby Open 2020.
The view from Shelsborough cove towards the SW and the across Woolacombe Sands and to Baggy Point in the distance.  Rocks formations all around and the silence contrasting against the activity of Woolacombe to the South.