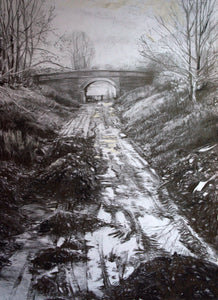 65cms x 45cms mixed media drawing onto board.  in Black frame with mount.
A wonderful zeitgeist moment. The now disused branch line being levelled-up and transformed into grazing for the sheep of the land-owner.  It will never appear like this again, like much of the country as the need for our environment and practice to be profitable drive change. 
Selected for the 2021 Mall Galleries Pastel Society exhibition Jan/Feb 2021, London.